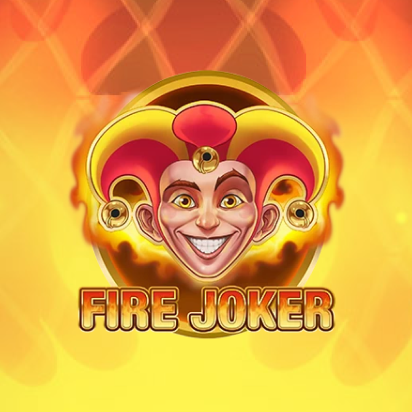 | | |
| --- | --- |
| Software | Play n GO |
| Reels | 3 |
| Paylines | 5 |
| Bet Range | £0.05 – £100.00 |
| RTP | 96.23 |
| | |
| --- | --- |
| Bonus Rounds | Yes |
| Jackpot | 800X |
Fire Joker is a fruit machine created by Play'n GO slot manufacturers. It has a 3 x 3 reel and 5 fixed paylines. In the base game, the standard jackpot is 80 coins, but the bonus features offer the opportunity to win up to 800 times your bet. One of the main features is a multiplier wheel that can result in exciting multiplier wins. You can try out the demo version of Fire Joker.
Review of Fire Joker
When it comes to Play n GO slots, you can never expect anything less than top-notch gaming quality. Fire Joker is no different, providing excellent graphics, captivating sounds, and impressive features that enhance its classic slot style.
In this game, rewards are obtained through base spins, but the real big wins come from the Bonus Wheel multiplier. This multiplier can pay up to 800 times your initial bet on a single spin. The game's style and payouts are designed to suit a medium variance slot, providing a range of wins that vary in size from small to much larger ones.
Get ready to cheer for stacked reels on this online slot game, as you'll be glued to the screen with anticipation as each reel stops. Embrace the Fire Joker and witness your bankroll flourish during the exciting spins. Every winning combination will ignite, letting you know that each flaming symbol brings you closer to victory.
Mechanics of Fire Joker
When playing the game, the symbols align in a 3×3 grid, with only five fixed paylines available. True classic slots typically offer no more than nine paylines for winning combinations. The straightforward design and simpler gameplay appeal to certain slot players who prefer a more relaxed experience without excessive features. To win, you need to align three matching symbols on a single payline from left to right. Your stake determines the multiplier for any winnings, which are immediately added to your bankroll.
In order to start spinning the reels, it is necessary to choose an appropriate wager. The betting interface is designed to be easy to use, enabling you to select a stake amount ranging from €0.05 to €100 per round. The line bet is determined by dividing the total chance by the five paylines. To calculate your payout, the line bet is multiplied by the combination value. For this particular game, the maximum value per line is set at €20.
After placing a suitable bet, you have the option to spin the reels manually by pressing the 'Spin' button or use the Auto Play feature to have the reels spun for you. Autoplay allows for 10, 20, 50, 75, or 100 consecutive spins at a fixed bet amount.
The function can be configured to cease spinning upon hitting a win, activating the bonus game, or achieving a jackpot win. Additionally, for responsible gambling purposes, you have the option to establish limits for both wins and losses. This ensures that your bankroll is not depleted while you are occupied with other matters. Once the feature has been properly set, you can confidently focus on other tasks while the game autonomously carries on in the background.
Fire Joker Theme
This slot machine is a classic fruit slot with a mischievous twist. The joker adds a playful atmosphere to the game, but the wins he brings are anything but funny.
The game interface is thoughtfully organized, placing tools and functions in easily accessible areas for an enjoyable gaming experience. The maroon reel set is neatly positioned against a background adorned with diamond checkered patterns. This design choice reflects the traditional fashion worn by court jesters or jokers.
The game title bursts at the top of the reels, igniting anticipation for an exhilarating experience. This anticipation is met as every winning combination is accompanied by a captivating display of animated fire behind each symbol, undoubtedly quickening your heartbeat. The screen pulsates as embers flicker in the background, intensifying the heat. You may even glimpse a couple of sparks escape from the bottom of the screen, captivating your attention.
In general, the game features high-quality graphics that give it an attractive appearance. The visuals offer a contemporary twist to the genre, distinguishing it from the traditional games in the industry. The game symbols are particularly striking, as they play a crucial role in boosting your winnings. These symbols consist of captivating images, including:
If you get a combination of three Red Sevens, you will receive a payout that is 25 times your initial bet.
If you combine three Gold Stars, you will receive a payout of 20 times your bet.
If you combine three gold bars, you will receive a payout of 15 times your initial bet.
Combining three plums will reward you with a payout of 7 times your wager.
By combining three grapes, you can earn a payout that is six times your initial wager.
If you combine three lemons, you will receive a payout of 5 times your initial wager.
If you combine three cherries, you will receive a payout of 45 times your initial bet.
If you combine three X's, you will receive a payout of double your initial wager.
The symbols mentioned above are often seen in traditional slot games and evoke feelings of nostalgia for many players, particularly those who started with older games. The mischievous-looking 'wild' symbol joker is a new addition to the classic pays category. Despite its appearance, it frequently shows up and can replace any other symbol to increase the chances of winning payouts. If you manage to get 3 Jokers on a payline, you will receive a payout that is 80 times your initial bet.
Sound & Soundtrack
The slot machine in this genre has a distinctively modern feel. Adding to the contemporary ambiance is the dance music soundtrack. Unlike many other fruity slots that lack any music and only offer generic casino sound effects, we find this lively addition to be quite refreshing. The captivating rhythm will make you instinctively tap your foot to the catchy melody in no time.
When you score a scorching victory, the music intensifies, emphasizing the boost in your winnings. Compared to the game's lively soundtrack, spinning the reel is surprisingly muted. The reels settle into position with minimal sound.
Bonus Features in Fire Joker
Fire Joker stands out from other vintage classic slot games due to its unique bonus features. Although it lacks traditional elements like free games and pick features, it compensates with a range of impressive features that can lead to wins of up to 800 times the stake, as previously mentioned.
Stacked Symbols
The symbols, ranging from humble fruits to the joker "wild," can stack on the reels and expand to cover the entire reel. This greatly enhances your chances of winning combos. Stacking symbols are crucial in the Wheel of Multipliers feature.
Wheel of Multipliers
If all the reels are filled with the same symbol, the "Wheel of Multipliers" bonus feature will be activated. During this feature, a spinner styled like a wheel of fortune will spin and reveal a random multiplier that will be applied to your current BIG WIN! The available multipliers on the reel are x2, x3, x4, x5, and a massive x10. This is where you have the chance to win up to 800X your bet, depending on which triggering symbols you landed on the reels.
To win the jackpot, all symbols must be Wild jokers. Normally, they pay 80 times the bet across five paylines. However, if you spin an x10 multiplier, your total stake is suddenly multiplied by 800x. This means that at maximum stake, you can potentially win €80,000.
Respin
If two full reels of identical symbols appear but fail to create a winning combination, the game will initiate a re-spin on the remaining reel without the combo. This gives you another opportunity to land three full reels and activate the "Wheel of Multipliers" feature mentioned above. The reel in question will light up as it spins, so keep your fingers crossed for a big win.
Free Spins Feature
Typically, video slot games include free spin bonuses. Consequently, this traditional title lacks the enchantment of the free games. Although the multiplier wheel can yield significant wins and compensate for the absence of a free spin game, the latter is typically more enjoyable to play.
RTP of Fire Joker
Return to Player (RTP) is an abbreviation for the percentage of money a slot machine is expected to pay back to players over time. The Fire Joker slot game boasts a 96% RTP, which is considered the standard for a high-quality slot game in the industry. Therefore, players can expect to receive decent winnings sporadically while playing this game.
Tips & Tricks for Fire Joker
At CasinoTopsOnline, we hope you achieve great success in your game playing experience. To help you maximize your time spent on the Fire Joker slot, we would like to provide you with some valuable tips.
While there are no guaranteed tips and tricks that can ensure results in slot games, it is important to practice wise play as a means of protecting against rapid losses. Here are some suggestions:
If you have a generous budget and desire to obtain the most substantial rewards, being a high roller, bet as much as you possibly can in each round. The greater your wager, the more significant your bonuses will be when you achieve a win.
For regular players, it is recommended to avoid placing excessively high bets throughout most of the game. However, every 100 spins or so, consider temporarily increasing your wager. By doing so, you enhance your chances of triggering the bonus wheel with a higher stake, ultimately leading to a more substantial reward when it truly matters.
If you believe you are on a winning streak, increase your wager promptly in order to maximize your potential earnings. However, if you start experiencing a losing streak, reduce your bet to withstand the downturn. You can consider increasing your chances later on. It is important to avoid chasing your losses by rapidly increasing your bets in an attempt to recover them. This approach will inevitably lead to losing everything.
Should You Play This Game?
Fire Joker, produced by Play n GO, is an exceptional slot game that we highly recommend trying for the following five compelling reasons.
In the game, you have the chance to spin the Bonus Multiplier Wheel, which can grant you rewards worth up to ten times your initial stake.
The game's jackpot is an astonishing 800 times the total stake.
In the event that you fail to completely fill the reels with identical symbols, a re-spin of the reels may be triggered to grant you the bonus.
The game provides a wide range of betting options, catering to the preferences of all types of bettors.
This game provides an ideal blend of traditional and contemporary slot gameplay.
How to Play for Real
If you're ready to move on from playing demo games and want to try your hand at real money betting, getting started can feel overwhelming. However, CasinoTopsOnline is here to help make the process as smooth as possible. Follow the three simple steps below to start playing Fire Joker and reap the benefits of real cash rewards.
Choose a Casino endorsed and suggested by CasinoTopsOnline from this page, and proceed to their platform by clicking on the Sign Up/Join button located on their home page.
After activating your casino account, you must deposit real money credits into your bankroll to indulge in actual rewards. This can be done by either visiting the banking page on the site or clicking on any tab labeled 'Deposit'. At this point, you will choose your preferred deposit method and specify the desired amount to be loaded.
After the funds are activated on your profile, you have the option to either search for Fire Joker directly in the search bar on the slots page or browse through the Play n Go slots, if a filter for that is provided. Locate the game and simply click on 'PLAY' to start playing.
Final Thoughts on Fire Joker
Determining the target audience for this popular casino game is challenging since it caters to both conventional slot enthusiasts and individuals seeking a contemporary experience with added features. However, we can confidently assert that this slot game is undeniably sensational, blending the simplicity of a classic three-reel slot with the enchanting allure of Fire Joker.
FAQ
The Fire Joker slot is where you'll discover the frequently asked questions.
Can I trust Fire Joker to be a safe game to play?
Fire Joker, created by a renowned international games provider, is backed by Play n GO, which holds licenses to offer games in various jurisdictions. Play n GO consistently submits its RNG and software for independent testing. By playing this software on a reputable casino site, such as those endorsed by CasinoTopsOnline, you can be confident in enjoying a fair and secure gaming experience.
Can Fire Joker be played on a mobile device?
The Fire Joker slot game can be played on any browser, whether it's on a computer or a mobile device running on Android or iOS. The game has been specially designed to fit smaller screens and has a user-friendly interface that is easy to control with your thumb. With the help of HTML 5 technology, the game maintains its high-quality audio and visual features without any compromise.
What is the Return to Player (RTP) percentage of Fire Joker?
Fire Joker is a slot game with medium variance, offering a decent average RTP of 96%, which aligns with the standard in the top slot titles of the industry.