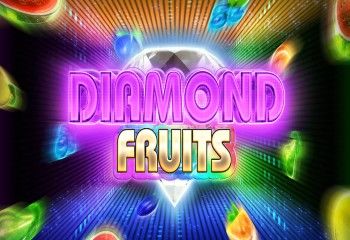 | | |
| --- | --- |
| Software | Big Time Gaming |
| Reels | 5 |
| Bet Range | 0.2 – 75 |
| RTP | 96.23 |
| | |
| --- | --- |
| Free Spins | Yes |
| Jackpot | 6650x your stake |
Do you find fruit-themed slot games repetitive? We certainly don't. This visually captivating game is a prime illustration of how certain slots can transform a familiar theme into something enchanting and entertaining. Continue reading for a delightful overview of this incredible slot game.
Big Time Gaming, not satisfied with simply revolutionizing the online slots industry through its Megaways game engine, has now introduced a fresh concept called Megaclusters in games like the Diamond Fruits Megaclusters slot. This innovative title, inspired by fruit machines of the future, can host a remarkable 100 symbol positions, thanks to the groundbreaking Megaclusters mechanic.
However, the value of Diamond Fruits Megaclusters extends beyond its uniqueness. With a generous RTP of 96.23% and medium-to-high volatility, players can effectively employ different betting strategies. While the maximum win of 6,650x may not be as impressive as other Big Time Gaming titles, Diamond Fruits Megaclusters compensates with its frequent hit rate. If you're seeking a departure from traditional fruit machine-inspired slots, this game is guaranteed to defy expectations.
Overview of Diamond Fruits Megaclusters
Our team of online slot experts thoroughly enjoys immersing themselves in new games, and Diamond Fruits Megaclusters is by far one of the most thrilling ones. We have extensively examined various aspects of this game, including graphics, soundtrack, symbols, bonus features, and overall gameplay. Big Time Gaming has a reputation for creating exceptionally high-quality online slots, and it comes as no surprise that Diamond Fruits Megaclusters lives up to that standard.
Continue reading to find a comprehensive review of this incredible and advanced online slot game. We will provide you with all the necessary information so that you can begin playing with a complete understanding of its functionality right from the beginning. Let's get started!
Diamond Fruits Megaclusters Slot Theme
The theme of the Diamond Fruits Megaclusters slot is easily discernible, even without exceptional intelligence. BTG welcomes players into a futuristic world of fruit machines, enhanced by a novel 3D reel mechanism. This addition enhances the provider's already impressive HD graphics. The initial 5×5 reel layout is positioned in front of a neon background with a space-age vibe, favoring simplicity over extravagance. This design choice proves to be effective, enabling players to concentrate entirely on the Megaclusters grid.
Similar to other Big Time Gaming slots, the bet controls for the Diamond Fruits Megaclusters game are located on the right-hand side of the screen. In addition, players can access the auto-play function, game FAQs, paytable, and spin button in this area. It is advisable to familiarize oneself with the rules before playing, as the Megaclusters concept is a unique and novel feature.
Diamond Fruits Megaclusters presents a captivating fruit machine theme, enhanced by stunning HD visuals that evoke a sense of nostalgia. The symbols, though slightly pixelated, possess a holographic charm rather than appearing lazily designed. Complemented by the mesmerizing 3D reel grid, the overall visual experience of Diamond Fruits Megaclusters is truly delightful.
In addition, the symbols and graphics created by Big Time Gaming display an exceptional level of attention to detail. It is often challenging to keep track of the numerous elements in expansive slots, particularly when playing on smaller screens. However, the provider has successfully made sure that its clear and precise aesthetics can be easily observed, even on smartphone displays. Accomplishing this is no simple feat, given that up to 100 symbols can appear on the reels.
Game Mechanics
Big Time Gaming surpasses NetEnt's innovation in cluster pays games like The Legend of Shangri La with their groundbreaking Megaclusters engine. This impressive fusion of the Megaways and cluster win engines is exemplified in extraordinary online slot games like Diamond Fruits Megaclusters, showcasing exceptional slot engineering.
The game starts with a standard 5×5 grid containing 25 symbols. When players form a winning combination of three or more touching symbols, each symbol involved splits into four. This process can occur multiple times in a row, gradually expanding the grid to its maximum size of 10×10, providing 100 possible symbol spaces. BGT refers to this feature as the "Reactions," which we will delve into further in the following sections.
The Diamond Fruits Megaclusters game engine possesses additional key features, such as highly adaptable bet limits ranging from 0.20 to 75.00 credits. Typically, the developer prefers a range of 0.20 to 20.00 for Megaclusters and Megaways games, indicating that this slot aims to cater to a slightly wider audience. The medium-to-high volatility further supports this notion.
Playing the Diamond Fruits Megaclusters game may require some adjustment initially, but both novices and experienced players will find it easy to grasp the gameplay. Below is a comprehensive guide on how to play, broken down into step-by-step instructions.
Select a digital gambling platform that offers Diamond Fruits Megaclusters among its available games.
Click on "Play"
Please indicate your wager using the arrows.
Click on the "Spin" button, which is represented by a green play symbol.
To achieve a winning combination, simply land a cluster of three or more symbols.
Splitting into four, winning icons have the potential to create more wins.
This process continues until either there are no more winning combinations or the 10×10 reel grid reaches its maximum positions.
The free spins feature is activated by a minimum of eight consecutive Reactions. Additionally, keep an eye out for the Wild symbol, as it has the ability to substitute base mode symbols and form winning combinations.
Later in this article, we will provide a detailed explanation of the bonus features in Diamond Fruits Megaclusters. However, you now have all the necessary information to start playing by following the straightforward guidelines mentioned above. Nonetheless, our casino experts highly advise utilizing the demo mode to play for free before wagering actual money. This enables you to familiarize yourself with the game without risking your bankroll.
Soundtrack & Symbols
Diamond Fruits Megaclusters' symbols are clearly inspired by aesthetics. The game offers players a delightful array of vibrant fruits like blueberries, lemons, orange slices, pears, plums, and watermelons. These symbols evoke a sense of nostalgia while also presenting a high-definition quality that aims to create a futuristic hologram-like ambiance, as envisioned by Big Time Gaming.
The highest paying symbols in this game are the pear, plum, and watermelon, which can award up to 50 times your bet for getting at least five of them in a combination. Additionally, there is a diamond icon that can pay a maximum of 50 times your bet if you manage to get 25 or more of them in a combination. Players will also find a wild symbol that is clearly labeled and can replace any other symbol to help create winning combinations. This wild symbol also plays a crucial role in one of the bonus features, but we will discuss that in more detail later on.
The soundtrack of Diamond Fruits Megaclusters may not be extraordinary, but it does showcase Big Time Gaming's distinctive high-energy style. Additionally, the developer has incorporated sound effects that enhance the immersive ambiance.
RTP & Variance
Diamond Fruits Megaclusters boasts an impressive RTP of 96.23%, surpassing the average and making it quite notable. However, when compared to other Megaclusters games like Millionaire Rush Megaclusters, which has a higher RTP of 96.44%, it may seem slightly underwhelming. Nonetheless, Diamond Fruits Megaclusters balances this out with its medium-to-high volatility and a more generous hit rate, creating a more satisfying experience during extended playing sessions.
This slot is ideal for low rollers, as it offers a maximum win of 6,650x, which may not be attractive to those seeking big jackpots. However, Diamond Fruits Megaclusters can still offer satisfactory payouts, especially for players who place the maximum bet of 75.00.
Bonus Features
Below, you will find more information about the three unique bonus features offered in the Diamond Fruits Megaclusters slot game.
Reactions
The central element of Big Time Gaming's Megaclusters engine is referred to as "Reactions". When players achieve a winning combination of symbols, each symbol is divided into four separate icons. This expands the number of potential symbol spaces, thereby increasing the opportunities for winning combinations. However, the grid returns to its original state once no more consecutive wins occur. Just to recap, the maximum size of the reels is 10×10.
Wild Explosion
If you manage to achieve three consecutive wins, you will activate the wild explosion bonus. This exciting feature will randomly add between five and fifteen wild symbols onto the reels, increasing your chances of forming multiple winning clusters.
Free Spins
To activate the free spins bonus feature, players need to achieve eight consecutive wins through reactions. Initially, they are awarded eight free spins, and each subsequent reaction grants an additional spin. Moreover, Big Time Gaming incorporates an unlimited win multiplier, which commences at x1 and progressively increases with every successful combination.
Slot Tricks
As we conclude this review of Diamond Fruits Megaclusters, let us delve into some effective slot strategies that you can employ during gameplay. Our team of experienced slots enthusiasts is well-versed in this subject, so make sure to heed the following tips:
Maximize the benefits of the slightly reduced volatility by placing smaller bets and extending the duration of your gaming session.
Practice your strategy and play for free using the Diamond Fruits Megaclusters demo mode before investing real money.
Conduct thorough research to discover the top online casinos offering lucrative deposit bonuses, enabling you to boost your initial wagering funds.
Shall I Play Diamond Fruits Megaclusters Slot?
What is our final verdict on Diamond Fruits Megaclusters? Like other games in the Megaclusters series, Big Time Gaming has a winning formula. We thoroughly enjoyed the combination of sci-fi and traditional fruit machine aesthetics, which brought a fresh perspective to the classic slot theme. The 3D reels were especially appealing, and we anticipate that BGT will continue to incorporate this technology in their future slots.
While the review is favorable, it is important to note that Diamond Fruits Megaclusters may not be the ideal choice if you seek enormous wins from a single spin. The payout of 6,650x may appear underwhelming when compared to other games utilizing the BGT mechanic. However, the game compensates for this with its medium-to-high volatility.
Diamond Fruits Megaclusters FAQs
Below, you will find answers to some frequently asked questions about Diamond Fruits Megaclusters.
What is the highest payout per spin on Diamond Fruits Megaclusters?
You can potentially win up to 6,650 times your stake with the Diamond Fruits Megaclusters game.
Is it possible for me to play Diamond Fruits Megaclusters without paying?
Certainly! Yes, players have the option to access Diamond Fruits Megaclusters for free through its demo mode. However, it is important to note that real money prizes cannot be obtained using this feature.
Does the Diamond Fruits Megaclusters slot have low or high variance?
Diamond Fruits Megaclusters falls within the medium-to-high variance category, positioning it slightly higher than average.