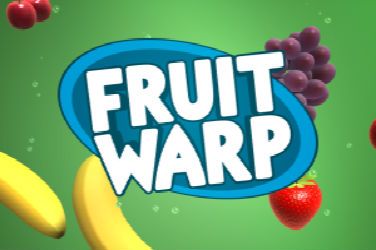 | | |
| --- | --- |
| Software | Thunderkick |
| Reels | 5 |
| Paylines | N/A |
| Bet Range | 0.10 – 100 |
| RTP | 97 |
| | |
| --- | --- |
| Bonus Rounds | Yes |
| Jackpot | 216x |
Thunderkick's online slot game, Fruit Warp, offers a unique and captivating experience. Unlike traditional slots, it does not have reels, rows, or paylines. However, it compensates with symbols that can appear anywhere on the screen, exciting special features linked to its fruit symbols, and an impressive RTP rate of 97%. With the potential to win up to 11,000 times your bet, it's worth giving the demo version a try before playing with real money.
Fruit Warp Screenshots
Should You Play Fruit Warp?
Definitely, you should give it a try! The Fruit Warp game completely defies the traditional slot game norms by discarding reels, paylines, wilds, and scatters. This might raise some concerns among slot players, but Thunderkick quickly alleviates any doubts with the captivating visuals, high RTP rate, and unique special features that Fruit Warp offers.
If you're someone who enjoys doing things in a unique way, you definitely don't want to miss out on playing this game release. Make sure to read our comprehensive review of Fruit Warp right now.
Gameplay
When it comes to bringing something quirky and unconventional to life, the Thunderkick brand never disappoints. This holds true even for a game with a simple fruit symbol theme. The Fruit Warp game, developed by Thunderkick, takes this basic concept and transforms it into something truly unique. Unlike traditional slot games, Fruit Warp does away with reels and rows. Instead, the fruit symbols float in mid-air, creating an intriguing visual experience. Winning combinations are formed by matching three or more symbols on the screen, eliminating the need for traditional paylines.
If you find the unique setup interesting, you might be curious about how to place bets in Fruit Warp. Fortunately, it's a straightforward process. Simply click on the poker chip-shaped button to modify your bet. This action will reveal all the available bet amounts for the game.
In Fruit Warp, the betting amounts begin at a minimum of £/$/€0.10 and gradually increase to 0.20, 0.50, 1.00, 1.50, 2.00, 3.00, 5.00, and beyond, reaching a maximum of £/$/€100 per spin. To make an appropriate bet, it is crucial to take note of the game's RTP rate of 97% and its high volatility. Additionally, considering your bankroll is essential.
Once you are content with your bet, feel free to begin playing. Simply tap the big button located in the bottom-right corner to introduce fresh fruit symbols onto the screen. These symbols will be analyzed, and if multiple matches appear on a payline, you will receive a payout. If you prefer, you can also utilize the game's autoplay feature by clicking the button next to the spin function. This will enable you to have up to 5,000 consecutive spins.
Similar to other online casino slots, winning combinations in this game are achieved by matching a minimum of three symbols on a payline. However, what sets it apart is the possibility of covering the entire game screen with a single fruit symbol, leading to a substantial payout. It is possible to win up to 216 times your total bet using this method.
Storyline
This online slot game from Thunderkick is truly filled with eccentricity. The sight of floating fruits in mid-air is not something you come across every day. However, considering the game is named Fruit Warp, the peculiar visuals make perfect sense. The slot's wackiness is so captivating that you won't be able to divert your attention elsewhere.
The game has no other storyline; it solely revolves around floating, distorted fruits. Thunderkick excels at this concept, as the brand is renowned for creating distinctive and captivating slot games. Fruit Warp's design is straightforward yet impactful. The symbols hover on the screen, accompanied by a green backdrop featuring floating air bubbles.
In the slot game Fruit Warp, the symbols take center stage, as they rightfully should. This is particularly fitting for a game of this nature. Naturally, the symbols in the slot are all fruits, and they grant payouts according to the following criteria:
Dragonfruit has the potential to reward you with a payout of up to 216 times your total bet with just 9 symbols.
The Prickly Pear symbol awards a maximum payout of 45 times your total bet across 9 symbols.
Starfruit: If you land 9 symbols, you can win up to 42 times your total bet.
When you land 9 symbols of grapes, you can win up to 36 times your total bet.
The symbol of a banana rewards you with up to 30 times your total wager, consisting of 9 symbols.
The symbol "Orange" has the potential to award a payout of up to 27 times your total bet with just 9 of them.
The strawberry symbol has the potential to reward you with up to 24 times your total bet, requiring only 9 symbols.
The plum symbol has the potential to reward you with a payout of up to 18 times your total bet across 9 symbols.
If you land 9 symbols of cherries, you can win a maximum payout of 15 times your total bet.
The sole responsibility for triggering special features lies upon these fruit symbols, as they are the only symbols involved. Wilds or scatters are not incorporated into the Fruit Warp game.
Design and User Experience
Fruit Warp by Thunderkick is a visually impressive game that captivates players from the very beginning. The graphics are stunning, with symbols that pop against the vibrant green backdrop with each spin. Betting on Fruit Warp is uncomplicated, and viewing the paytable is effortless, creating an inviting gaming experience.
However, Thunderkick has gone a step beyond that. The background music in Fruit Warp is so unique and otherworldly that it feels like it could be playing on another planet or in a Björk music video. This adds an extra layer to the game, creating an immersive and captivating atmosphere. The best casino games always offer players a complete and satisfying experience, and Fruit Warp definitely delivers on that front. This is largely thanks to its user-friendly interface and well-thought-out game design.
Sit back and experience the joy of a delightful game, where wins are celebrated with a catchy jingle and the symbols come alive with a vibrant highlight animation.
Fruit Warp Bonuses
Although lacking wilds or scatters, Fruit Warp offers unique features that can be understood based on the number of winning symbols displayed on the screen in each round.
Win Combinations
A win is achieved when three or more identical fruit symbols appear on the screen, which results in a standard payout.
When you land four identical symbols on the screen, a series of special features is triggered. This initiates a portal respin where the other symbols are replaced with new ones. As a result, you have the opportunity to win additional prizes in just one round.
Fruit Modes
To trigger the Fruit Mode function, players need to spin at least five fruit symbols that match on the screen. Once activated, all nine Fruit Modes associated with each fruit will be displayed, showcasing the Warp Meter along with its steps, multipliers, and extra lives. While in a Fruit Mode, players will receive a respin whenever a symbol that matches the Fruit Mode type appears, unless the Warp Meter is already full.
The value of dynamic multipliers will progressively rise with each victory until they are triggered and their value becomes fixed. Additionally, the number of symbols in a winning combination determines the amount by which the multiplier increases. Furthermore, obtaining an extra life allows for one additional spin in the event that no symbol matches the Fruit Mode type. By participating in this Fruit Mode round, there is a possibility of winning up to 11,000 times the initial stake.
How to Play Fruit Warp
If you are intrigued by this Thunderkick game, you will probably be interested in finding out where and how to play it. To access the game on an online gambling site, you can simply follow these simple steps.
Explore the thrilling world of online gambling by visiting our collection of the top-rated online casinos. Among the wide array of exciting games available, don't miss out on the chance to experience the captivating Fruit Warp in one of our recommended online casinos.
Create an account and make a deposit using one of the available payment options.
Head to the game lobby of the casino and locate the Fruit Warp game.
To begin playing the game, click on it to load it up.
What is Fruit Warp's RTP?
The Thunderkick Fruit Warp game has an RTP rate of 97%, which is higher than the average RTP rate of 96% for video slots. However, it is important to note that this game has high volatility. This implies that although the payouts may be higher, they may not occur as frequently as in other slot games.
With this knowledge, you have the opportunity to adjust your bet in each round to suit the game's settings. If you enjoy high-stakes gambling, Fruit Warp might be the perfect game for you to try out. However, if you prefer lower bets, it might be worth considering joining a website that offers lucrative casino bonuses. These bonuses can give you some additional time to place bets on Fruit Warp.
How Can I Win at Fruit Warp?
To win in this slot game, simply spin three or more matching fruits on the screen. It's an easy task; all you have to do is choose your bet and click the play button. While a win in each round cannot be guaranteed, we can provide you with some helpful tips for playing slot games like Fruit Warp below.
Our Top Tips and Tricks to Winning
It is advisable to avoid placing excessively high bets in this game. As it is a high-variance release, it is possible that you may have to wait through multiple rounds before achieving a win. Therefore, it is recommended to safeguard your bankroll.
In Fruit Warp, winning does not depend on paylines. Instead, if you have three matching symbols, it doesn't matter where they appear, you will still win. Keep this in mind.
Do not pursue your losses. While playing a game like Fruit Warp, it is probable to encounter multiple rounds of losses. However, avoid the temptation to raise your bet or add additional funds in an attempt to recover these losses.
Avoid relying too heavily on the auto spin feature. While it offers a minimum of 5 spins, it is advisable not to exceed 10 spins. Going beyond this limit can quickly deplete your bankroll.
Our Personal Experience Playing Fruit Warp
Playing a game like Fruit Warp is always an exciting and unique experience. The game's interface and the way the symbols are presented on the screen create an inviting atmosphere. When I first played it, I was impressed by the stunning graphics, captivating soundtrack, and unconventional gameplay. However, it's important to note that triggering the Fruit Modes round may not occur very often, so it's something to keep in mind. You might find yourself waiting for it to happen, and there's a possibility that it may never occur. Here are a few tips to remember when playing Fruit Warp from Thunderkick.
This game is perfect for high rollers due to its high-variance nature.
It contains thrilling portal respins and Fruit Modes to activate.
Both the visuals and audio in Fruit Warp are outstanding.
You have a good selection of betting options available, along with an excellent RTP rate of 97%.
Fruit Warp VS Similar Slot Games
Although Fruit Warp is not the original game to utilize fruit symbols or explore this theme, it undoubtedly approaches the concept in its unique manner. Let's delve into how it differentiates itself from other games developed by various creators.
| Slot | Developer | RTP | Max Win | Theme | Special Features |
| --- | --- | --- | --- | --- | --- |
| Fruit Warp | Thunderkick | 97% | 11,000x | Fruit-Themed | The game features Win All Ways, Respins, and a Bonus Game. |
| Golden Winner | Inspired Gaming | 94.50% | 2,500x | Fruit-Themed, Classic-Themed | Some of the exciting features you can enjoy in this game include complimentary spins, multiplier bonuses, gamble rounds, scatter symbols, and the chance to win additional spins. |
| Sizzling 777 | Wazdan | 96.42% | 305x | Fruit-Themed, Classic-Themed | Gamble Round, Scatters |
| Juicy Riches | Greentube | 95.26% | 500x | Fruit-Themed, Beach-Themed | Some of the features included in this game are Free Spins, Cascading Reels, Expanding Symbols, and a Gamble Round. |
Other Slot Games
If you're looking to try something other than the fruit-themed Thunderkick slot mentioned in this review, consider checking out the following recommendations.
Big Bass Amazon Extreme
Would you consider changing the fruit theme to a fish-themed one? You have the opportunity to do so with the Big Bass Amazon Extreme slot developed by Reel Kingdom. This game has a high level of unpredictability and offers the chance to win up to 10,000 times your initial bet. The game consists of five reels and three rows, and it includes a variety of exciting features such as free spins, wild symbols, a bonus game round, scatter symbols, symbol collections, multipliers, and much more.
Folsom Prison
Experience the world behind prison bars with the Folsom Prison game by NoLimit City. Boasting a 94.01% RTP rate and the potential for a massive 75,000x payout, this slot offers an exhilarating gaming experience. Starting with 16 paylines, the game can expand to a staggering 46,664 ways to win as you play. Folsom Prison features an array of exciting features, including random multipliers, scatter symbols, walking symbols, free spins, a bonus bet, multiway wins, and much more.
Starburst
Since its release in 2013, Netent's Starburst game has consistently been their most beloved slot. With a 96.09% RTP rate and low volatility, it caters perfectly to players with smaller budgets. The graphics are exceptional, and the addition of expanding wilds enhances the experience even more. Starburst allows for wins in both directions, and players can potentially earn up to 500 times their bet. Let's not overlook the respins that are also included in Starburst!
Our Final Thoughts
Thunderkick's Fruit Warp is a game that deserves our highest respect for its ability to take a theme and give it an exceptional twist. There is no denying the game's simple yet captivating structure, visually pleasing graphics and animations, and the inclusion of inventive special features. It truly embodies everything one could desire in a slot game.
We highly suggest giving Fruit Warp a try to experience its exceptional quality. In a world where following the norm of lather, rinse, repeat is prevalent, Thunderkick stands out with its unique approach, and Fruit Warp exemplifies that.
FAQs
Is it possible to play the Fruit Warp slot without any cost?
Certainly! Absolutely, you have the option to give it a go. Feel free to explore the demo mode without any charges on the CasinoTopsOnline website.
How much is the highest payout offered in Fruit Warp?
When playing the Fruit Warp slot, you can potentially win a maximum of 11,000 times your total bet.
Can I consider Fruit Warp by Thunderkick a safe game to play?
Indeed, it is. This renowned developer stands among the leading providers of online gaming software, ensuring that all of its games undergo regular audits. The fact that it holds gambling licenses from multiple jurisdictions confirms its adherence to these stringent standards.
What strategies should I adopt to increase my chances of winning while playing the Fruit Warp slot?
In order to win, you must display three or more identical fruits on the screen, and each fruit comes with its own corresponding prize.
What is the Return-to-Player (RTP) percentage for Fruit Warp?
Fruit Warp offers a 97% RTP rate and a notable high variance level for players to consider.