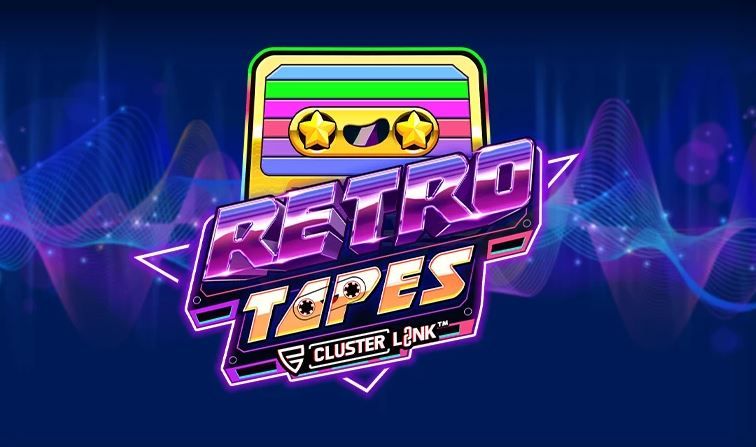 | | |
| --- | --- |
| Software | Push Gaming |
| Reels | 6 |
| Paylines | Cluster Pays |
| Bet Range | 0.1 – 100 |
| RTP | 94.46 |
Retro Tapes Cluster Link, developed by Push Gaming, transports players back to the nostalgic era of analog cassette tapes, offering a plethora of thrilling and captivating elements. Immerse yourself in the pre-digital times with its remarkable features, accompanied by an electrifying 80s soundtrack.
Playing Retro Tapes Cluster Link, a classic online slot game, was not only satisfying but also immensely enhanced by its exceptional range of features. These features truly elevated the gameplay experience, turning it from good to extraordinary. Allow me to share my review of this 6-column, 9-row grid game.
Online Slots Format
The Retro Tapes Cluster Link offers both a paid version with real-world currency and a free-to-play demo, catering to both newcomers and seasoned players.
Retro Tapes Cluster Link Demo Version
The Retro Tapes Cluster Link offers a fantastic demo that provides an immersive gaming experience and a risk-free opportunity for gamers. It is particularly suitable for beginners or those who wish to explore the game without any financial risk.
Retro Tapes Cluster Link Real-Money Format
The real-money format of Retro Tapes Cluster Link builds upon the tremendous success of its predecessor, Jammin' Jars, by showcasing vibrant plastic cassette tapes as the main attraction.
The game features 6 reels and 9 rows, employing a cluster pay mechanism. In order to win, you must have a minimum of 5 matching symbols that connect either horizontally or vertically.
After a cluster win, the game screen clears the winning symbols by collapsing them into empty spaces. As fresh characters fall into place, new winning combinations have the chance to form.
The maximum prize that can be won is 10,000 times the amount staked, and the chances of winning are 1 in 1,248,439. Bets can be placed with amounts ranging from $0.10 to $1000.
Technical Analysis
Despite having a simplistic interface and design, the game provided an outstanding technical gameplay experience. Let's delve into the game's RTP and diverse range of special features.
Retro Tapes Cluster Link RTP
Experienced slot gamers will be drawn to this platform due to its attractive RTP (Return-to-Player) rate of 96.47%, despite the highly volatile model of the online slot game.
Retro Tapes Cluster Link Features
The Retro Tapes Cluster Link is packed with a wide range of special features that greatly enhance the overall gameplay experience. These incredible features include:
Wild Tape Symbol
In this game, the wild symbol is represented by a wild tape. This wild tape can be used as a replacement for any symbol in the game, except for magnets or wild multipliers. Additionally, each wild tape symbol is associated with a multiplier that starts at x1 and increases by +1 every time it contributes to a winning combination.
Wild Multiplier Symbol
The star-shaped symbols can be found in both the base game and the Top Charts feature. When the Wild Multiplier symbols appear, they will share their multiplier value, which can be 1x, 2x, 3x, or 5x, with all the Wild Tapes on the screen. After that, they will transform into an Instant Prize symbol with a random value.
Instant Prize Symbols
When clusters of at least five Instant Prize symbols land, the player is awarded with bet multiplier values worth 1x, 2x, 5x, 10x, 25x, 50x, 100x, 250x, 500x, or 1,000x their stake.
Magnet Features
The Magnet symbol has the ability to land on any position. Upon landing, it transforms into a pay symbol randomly and drags nearby symbols across the grid, resulting in a cluster win. Additionally, Magnets can affect Instant Prize symbols, but only if there are a minimum of four of them on the game grid to form a cluster.
Top Charts Feature
The Top Charts mini game is activated when you have a minimum of 3 Wild Tapes visible. You will receive between 6 and 12 free spins during this game, and there will be a selection of symbols to choose from.
A fresh Wild Tape icon grants an extra pair of complimentary spins.
Wild Multiplier symbol
Instant Prize symbol
Magnet symbol
The Extra Spins symbol grants one or two additional free spins before transforming into an Instant Prize.
The Blank Tape symbol has no worth.
Online Slot Layout
If players are looking to be visually impressed by their slot games, this game might not be the best choice as it lacks a visually appealing aspect. However, it does possess a charming retro vibe, reminiscent of early-era computer-inspired 80s pop music videos, thanks to its swirly background graphics.
My Experience With Retro Tapes Cluster Link
Despite any shortcomings in the game's appearance, the extensive selection of unique features more than compensated for them. The incorporation of magnets was a stroke of brilliance, and the inclusion of wild multipliers resulted in a satisfying payout from a few spins.
Jammin' Jars may not be able to sway the devoted fanbase of the hall-of-famer game, but it possesses more than sufficient qualities to entice a whole new legion of dedicated fans.